Diesel Mobile Generators
Generac offers a comprehensive line-up of mobile diesel generators, providing 8kW to 2000kW of reliable prime power. Durable, sound attenuated enclosures provide quiet operation, suitable for a variety of applications and environments. Most Generac Magnum generators come standard with a programmable Power Zone controller, that allows for ultimate efficiency and easy-to-read settings and generator status screens.
SUPERSTART™ Oversized Alternators
Voltage Regulation
Easy Operator Interface & Serviceability
Power Zone Controller
Quiet Operation
Rugged Chassis
Durable
Gaseous Mobile Generators
Generac Magnum mobile gaseous generators offer true innovation in clean, cost-effective power. Traditionally used in oil and gas drilling, these gaseous generators can be set to run on liquid propane, natural gas or wellhead gas – and even automatically switch over to the designated secondary fuel source if primary fuel is interrupted. With natural gas as an extremely reliable and plentiful source of fuel, new applications are constantly evolving.
Tri-Fuel Options
Parallel-Ready
Lowest Cost to Fuel
Durable
Rugged Chassis
Telemetry Interfacing Available
Environmentally Friendly
Containerized Mobile Generators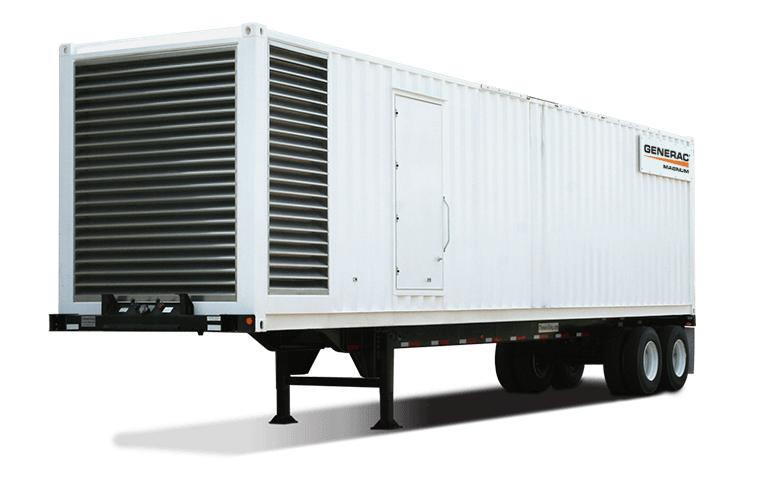 Generac Magnum containerized generators provide up to 2MW of power and are built to your specifications, even down to cabinet lighting and paint colors. Designed for ease of operation, the digital genset controller and power connections are mounted at eye level and are accessed through large operator interface doors located on the exterior of the enclosure. Bus bars are included for easy connections to genset output power.
Industrial Diesel Liquid-Cooled Gensets
EPA Emission Compliant Engine
Turbocharged and Intercooled Engine
Large Integral Fuel Tank
Fully Featured Microprocessor-based Controller
Sound Attenuated Trailer
Paralleling Capability
View All Available Products at Generac Mobile Products.