This Month's Articles:
---
Generac Power Systems Earns Frost & Sullivan's Company of the Year Award
We are pleased to announce that Generac has been honored with the 2014 Natural Gas Generator Company of the Year Award from Frost & Sullivan for its contribution to the North American natural gas generator set industry.
Recipients of this prestigious award are selected based on their demonstration of excellence in growth, innovation, and leadership. According to Frost & Sullivan Chairman David Frigstad, "Businesses that receive the Company of the Year Award have a keen eye to the future and drive innovation that meets future needs before they become commonly visible, thereby often being first to market with new solutions."
Generac received the award for its continuous performance in identifying untapped needs in the market and its ability to develop product solutions for residential, commercial, industrial, and mobile applications that utilize natural gas. The company's strategic business acquisitions were also noted for extending Generac's long-term growth opportunities.
"We are honored to accept this award from Frost & Sullivan, which recognizes our current achievements and the path to our future success," said Aaron Jagdfeld, president and chief executive officer of Generac Power Systems. "I'd also like to thank the employees at Generac for their incredible work ethic. This award is a result of their dedication and commitment to excellence, which has made everything we do possible."
In the award recognition, Frost & Sullivan highlighted Generac's natural gas products. Generac's innovations have made gaseous-fueled generators more powerful and cost effective. Natural gas units offer extended runtimes during power outages because there is no need to refuel. These products don't require onsite fuel storage, which eliminates fuel maintenance and spillage concerns. Special permitting is also not required. Along with these benefits, natural gas units have enabled customers to significantly reduce operating costs, saving thousands of dollars each year. Another advancement is the use of these products in the oil and gas industry. Generators can be used to power remote sites by utilizing the existing natural gas source. This helps to reduce flaring, providing faster return on investment for customers.
Frost & Sullivan evaluates two key factors in determining the Company of the Year: visionary innovation and performance, and customer impact.
Watch the award video here.
---
Enhancements to Power Design Pro™ Improve Functionality and Integrate Cloud Storage Capabilities
Generac announced that its industrial sizing calculator, Power Design Pro, has received a number of enhancements that will allow engineers and contractors to design a more comprehensive standby power system for customers.
Key new features include:
Hybrid Software Architecture – The hybrid design of Power Design Pro™ combines the sophistication and performance of a downloaded tool with the real-time functionality and cloud capabilities of an online tool.  This allows you to have the fastest, most accurate and up-to-date sizing software on the market today.
Cloud Storage/Accessibility – Secure cloud saving capabilities allow you to access projects from multiple devices and locations with a single, secure login. This means you can view projects from work, onsite laptop or home. And, in the event of a hard drive failure on a local computer, saved projects will be accessible via the cloud.
Announcement Page – Power Design Pro™ users will be the first to learn about new product announcements from Generac Industrial Power, as well as the latest industry news and trends.
Medium Voltage Product Data – Medium voltage support is now included in Power Design Pro™ providing you more options for sizing your projects.
Coming Soon: Shortcut Link to SpecExpert – After sizing a project with Power Design Pro™, you will then have a direct link to an enhanced SpecExpert resource to create a detailed specification.
In addition to state-of-the-art generator sizing and analysis, Power Design Pro™ also provides users with additional generator related tools and functionality to fully evaluate genset configurations and solutions.  This includes:
Technical Documentation – Spec sheets, installation drawings, emissions data, spec text, and more are all provided specifically for the genset solution that is sized.
Gas Piping Sizer – Calculates the proper gas piping size needed for the generator based on product specs, gas supply information, length of run, and number of elbows/tees in the line.  This sizer also provides the pressure drop and available pressure through the system.
Exhaust Piping Sizer – Calculates the proper exhaust piping size needed for the generator based on product specs, length of run, and number of elbows/tees in piping system.  This sizer also calculates the pressure drop through the exhaust.
Pad layout tool – Calculates the pad size needed based upon the desired layout, size of the generators, and spacing required between and around the units.
Power Design Pro™ is an auto-update program and will install the latest release the next time you use the tool.  If you are new to Power Design Pro™ and would like to learn more or download the program, click here.
---
Generac Industrial Power Introduces Power Series Transfer Switch Product Line

Generac Industrial Power has unveiled its new line of Power Series™ transfer switches (PSTS) and the ATC-900 transfer switch control.
The Power Series transfer switches can be used with Generac's newly expanded industrial standby generator line, which includes single-engine diesel generators from 750 kW to 2 MW. The new ATC-900 transfer switch control offers robust supervisory and programming capabilities, making it ideal for facility operators and engineers alike.
Generac has invested significant resources into growing its industrial product portfolio since late-2013.  "Generac will continue to push the limits when it comes to innovation and new product development, which is why we've been able to quickly secure our position as a leading supplier of industrial standby solutions," said Kyle Raabe, Generac's Vice President of Industrial Sales. "From transfer switches to industrial generators, Generac has the full lineup to provide what's needed for industrial applications that require backup power systems"
The Power Series Transfer Switch line includes 14 different platforms with capabilities up to 5,000 amperes (amp). It features open and delayed transition on three cycle switches, and short time ratings to aid in breaker selection and selective coordination, which is essential in mission critical applications. It also includes a double-throw interlock transfer mechanism for higher reliability and safety from unintentionally paralleling two sources of power. The service entrance is 100 percent rated, and the top, bottom, and side cable entry eases installation.
The ATC-900 controller brings intelligence, adaptability, and enhanced supervisory and programming capabilities to the PSTS product offering. The control is either standard or available as an optional add-on depending on the platform chosen.
Advanced diagnostics allow the controller to capture and record up to 450 real time-stamped events – including the last 12 events captured two seconds before, and two seconds after – which enables users to diagnose power anomalies faster. It's equipped with 20 inputs and outputs (four of each are customizable), and has a variety of monitoring and control functions, such as remote load testing and selective load shedding. Operating parameters can be set using a computer, or can be saved to a jump drive and uploaded directly to the control. Utility metering packages are also available.
System information is displayed on a 4.3-inch color monitor and a LED mimic bus. Color-coded LEDs provide Available and Connected status indication, while the Main Menu screen offers transfer switch status at a glance, as well as load-metering data and active alarms. Navigation is simplified with easy-to-use arrow keys.
The Power Series Transfer Switch and ATC-900 transfer switch control are now available for ordering. Contact us to place an order today!.
---
Maintenance Spotlight: Load Bank Testing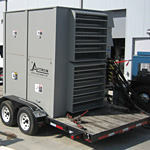 A comprehensive preventative maintenance program is critical to the reliability of your standby generator. A vital test to include in your annual maintenance package is a load bank test. A load bank test essentially tests the generator at full load, making sure that the system performs properly and at the required horsepower.
Your generator's engine is designed to run at full load – and lightly loaded systems, or those exercised weekly without load, are subject to increased fuel consumption, performance deterioration and a condition called wet-stacking.
Wet-stacking occurs when the generator is running at only a small percentage of its full capacity. A portion of the fuel in the system remains unburned and then passes through the exhaust valves into the exhaust side of the turbocharger and the exhaust system. Wet stacking is detectable by a black "tar-like" discharge around the exhaust pipe connections and around the turbocharger.
Load bank testing allows the engine to reach full operating temperature, burning away the accumulated residual fuel. The result is a unit that runs cleaner and more efficiently. Load bank testing also reveals any system malfunctions that are likely to occur during an extended power outage.
ESSE recommends performing a load bank test annually. Call us today to add this valuable test to your preventative maintenance plan!