December 2018 Articles:
---
HAPPY HOLIDAYS!
Christmas is a very special time of year for us at ESSE. Partly because of the magic of the season and secondly because it's a great opportunity to thank both our customers and employees. Without our dedicated employees we wouldn't be able to serve our customers the way we do.
We also offer our sincere gratitude to all of our customers. We look forward to serving you in 2019 and wish you a Merry Christmas!
---
NATURAL GAS GROWS INTO THE LARGEST ELECTRICAL SOURCE IN THE UNITED STATES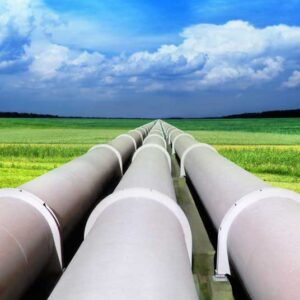 For the United States as a whole, natural gas provided 32% of total electricity generation in 2017, which is slightly higher than coal's 30% share according to the U.S. Energy Information Administration (EIA). EIA reported that natural gas generated 1,378,307,000 megawatts compared to 1,239,149,000 for coal.
"In 2017, coal provided the largest generation share in 18 states, down from 28 states in 2007 while natural gas had the largest share in 16 states, up from 11 in 2007," said EIA in its Sept. 10, 2018 report.
The U.S. is currently the world's largest natural gas producer, having surpassed Russia in 2009. According to EIA, natural gas production in the U.S. has jumped from 55 billion cubic feet per day (Bcf/d) in 2008 to average 73.6 Bcf/d in 2017.
Gas electricity generation has continued to grow, as prices have been relatively low and production continues to rise. The market-driven response to low prices and new environmental regulations favors natural gas along with renewable energy sources like solar and wind.
The use of diesel generator sets as the primary choice for reliable temporary on-site power generation is falling. With several practical benefits – including reduced maintenance costs and emissions as well as enhanced accessibility – natural gas is quickly becoming the fuel of choice for a variety of industrial power applications.
Diesel engine emissions from stationary sources are part of a larger group of U.S. Environmental Protection Agency (EPA) air quality regulations. Ultra-low sulfur diesel (ULSD) fuel was a prerequisite for engine exhaust aftertreatment systems introduced after 2006, enabling engines to achieve exhaust emissions more than 99% cleaner than engines manufactured prior to 1996. However, ULSD has a shorter shelf life compared to its high-sulfur predecessor. On-site diesel storage tanks are typically sized to provide 12 to 72 hours of run time, and fuel polishing is required every six to 24 months.
NFPA 100 also requires fuel to be remediated as necessary. According to NFPA 110, fuel tanks that are subject to temperature variations can experience accelerated fuel degradation, especially if the tanks are outside and above ground. The presence of water can lead to microbiological contamination and growth, which in turn can lead to general pitting corrosion of steel tanks and components, possibly resulting in filter plugging, operational issues or a hydrocarbon release into the environment.
With ULSD requiring more rigorous maintenance for the fuel itself coupled with the EPA's mandate for cleaner-burning diesel engines that require a higher quality fuel, diesel fuel is no longer the low-cost, low-maintenance emergency fuel it had been.
By comparison, natural gas generators avoid those fuel supply and maintenance issues. According to a 2013 report by Massachusetts Institute of Technology's Lincoln Laboratory, natural gas distribution systems operate at a reliability rate exceeding 99.999%, with the exception of seismically active areas. Incidentally, that makes the natural gas distribution system approximately one-thousand times more reliable than a single engine generator set, which is typically assumed to be 99% reliable.
The same MIT report notes that many of the compressors on the transmission network are powered by natural gas, using approximately 3% of the natural gas produced. The distributed nature of the natural gas production and transmission networks result in an exceedingly low probability of cascading failure.
For those who require emergency power systems, natural gas addresses all their concerns: cleaner exhaust emissions, equal or better fuel availability, reduced fuel maintenance and reduced environmental liability. According to the EIA, from an end user's perspective, natural gas is delivered on demand, and it is easy to overlook more than four-trillion cubic feet of storage in the continental United States. If all natural gas production in the United States ceased simultaneously, it would still take anywhere from two to nine weeks to fully deplete the natural gas in underground storage.
When choosing a fuel source for a backup power solution, working with us is an important step in ensuring the ideal products are specified to meet the city, state and national codes as well as the needs of the customer. Contact us with any questions.
---
FIVE EMERGING DATA CENTER TRENDS
In the past 8 years alone, Page has designed more than 35 data centers valued at more than $3.75 billion and ranging from Uptime Institute Tier II to Tier IV designs. The mission critical team is very familiar with the pressures to move at warp speed while remaining at the forefront of advances in facility design and construction. The following are the most current data center trends that we are seeing.
Trend No. 1: The cloud
More enterprise-level users are migrating their information technology (IT) portfolios to the cloud. Even functions such as high-performance computing (HPC), which owners previously were adamant about keeping in-house, are moving to cloud vendors specializing in HPC applications. Concerns about security and intellectual property protections are still issues to overcome, but they appear to be less of a worry than previously. This is because improvements in these areas are significant enough to assuage an owner's concern—or the cost savings of the cloud has changed priorities.
Trend No. 2: Edge data centers
Latency concerns can be overcome by building data centers closer to the end user, or the edge of the network. Traditionally, data centers have been located in remote areas within larger regional markets, such as Virginia, Texas, Colorado and Arizona. Content providers still have large data centers in these major markets, but now they will also have an edge data center in smaller regional markets and perhaps a micro-data center within many cities. As a result, we are pursuing work all over the country. The facilities are much more compact, repeatable and cost-efficient—sometimes, they are as small as a single rack.
Trend No. 3: PUEs leveling out
In a never-ending quest to reduce electricity operating costs through more efficient mechanical design, owners are focusing more than ever on innovative solutions. But it is becoming a cycle of diminishing returns: Facility designs below 1.5 power usage effectiveness (PUE) are common. Getting as low as 1.2 PUE to 1.3 PUE also is achievable, even at a reasonable premium. Many of our clients are looking at reducing total power consumption, and this is causing them to push back on IT vendors to provide more efficient equipment. Decreased IT power consumption also diminishes the power required for the environmental systems cooling the equipment, which reduces the total power consumption of the facility by more than just the reduced IT load.
Trend No. 4: Smart reliability
Typically, Page has been sought out by clients for highly redundant data center designs. In the past, the reliability was provided through capital-intensive Tier III and IV facilities. If there is an equipment failure, today's resilient networks and software provide much of the reliability by rolling over data to another server or to a geographically isolated facility. Also, clients now make more informed decisions about how much reliability they really need. They are no longer building one-size-fits-all facilities and are opting to have varying levels of reliability within the same facility. As a result, more data centers are now designed with more traditional mechanical, electrical and plumbing (MEP) systems for a lower cost. For example, older designs typically used chilled-water plants while current designs are using rooftop units.
Trend No. 5: EMP/IEMI
from electromagnetic pulse (EMP) and/or intentional electromagnetic interference (IEMI) attacks is discussed more and more. This has been especially true on facilities that are deemed critical to public safety and health, either by the government or other regulatory agencies. Recently, we have completed shielding designs for power-company control facilities and 911 emergency call centers.
As enterprise-level data centers continue to migrate more of their portfolios to the cloud, data center design and construction is moving to support the colocation industry that provides these services. Low profit margins, the never-ending drive for lower capital costs and an increase in the number of competing smaller firms force us to always be on the lookout for the next cost-effective innovation.
Storming Into Action
Andy Baxter, PE, is principal, mission critical at Page.
Page is a CFE Media content partner.
---
POWERING ON AFTER HURRICANE MICHAEL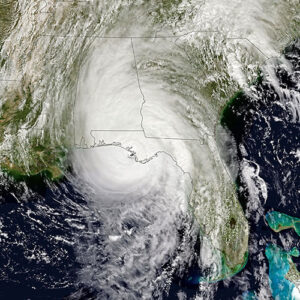 Hurricane Michael was the most powerful hurricane to hit the Florida panhandle in nearly 50 years. A week after Michael made landfall, the scope of damage became clearer. The Florida panhandle was devastated; homes were wiped away and towns were nearly obliterated. Across Bay County, which took a direct hit from the storm, more than 2,500 structures were damaged and at least 160 were destroyed. The storm killed at least 19 people in Florida, most of them in that coastal county. At least 10 other deaths happened elsewhere across the South.
A week later, some 125,000 customers were still without power. In Calhoun County, Fl., 98% of the customers didn't have power according to the emergency management website. Drivers had been lining up for hours to get fuel after gas stations in the hardest-hit areas were completely destroyed, and without power those still standing could not operate. Residents also had to rely on airdropped food and water to survive. Lack of electricity and phone service hampered efforts to distribute food and water and to contact residents not heard from since the storm hit.
As residents hoped for relief, some were apparently growing desperate. In many areas devastated by the hurricane, law enforcement officials battled looting of homes and businesses that were without electricity. Officials said often the looters had been armed. Many businesses had broken doors and shattered windows. One victim told the Associated Press that thieves entered her home while she and her four children were sleeping. She had left the front door open to allow a breeze in during the steamy weather following the hurricane, as her power was off. She said the thieves took her purse even as she was clutching it to her chest while she slept.
Under normal circumstances, many criminals avoid homes and businesses with a security system. When the power goes out, some burglars see it as an opportunity to scout for homes and businesses that may be vulnerable. Having a generator hardwired to the electrical panel can help protect your possessions. Security systems can be one of the circuits that the generator powers.
To power a commercial generator, you need either diesel fuel or natural gas. Natural gas is becoming a popular fuel of choice because it seems to stay intact in events like Michael, as it is underground and is not disrupted by water. Michael had caused few, if any problems to the natural gas infrastructure.
By comparison, generator owners requiring diesel fuel saw several issues. Flooding and debris in the road made it challenging to get more fuel after the storm made landfall. Oftentimes roadways can be blocked and debris can be an impediment to trucking and logistics. Refueling a generator then becomes a large challenge if you are using a diesel set.
Simply put, natural gas gen-sets have a more robust fuel source in a major outage event. Generators require reliable fuel supplies for extended running, and long-term outages, like those caused by Hurricane Michael, often expose the weaknesses within the diesel fuel infrastructure.