Get Ready! 2019 NOAA Hurricane Prediction: 2 to 4 Major Storms in the Atlantic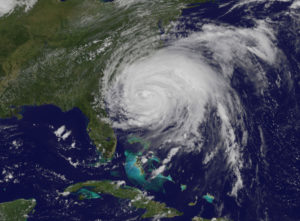 June 1st marks the official beginning to the 2019 Hurricane Season. The tropical season runs from June 1st through November 30th. NOAA's Climate Prediction Center is predicting a near-normal 2019 Atlantic hurricane season and above-normal 2019 Eastern Pacific and Central Pacific hurricane season. There already has been one named storm this year – subtropical storm Andrea, which was not expected to cause any major impacts beyond maritime warnings for ships in the area.
It's not too early to take measures to protect your property and have a plan if a hurricane comes your way. Waiting until a hurricane develops often means waiting in line for supplies or running into shortages of critical items. The ready.gov website is a great resource that families can use in planning for weather events.
Having a backup power supply is one way to prepare, but you will also need to make sure your generator is ready and in working order before the storm. Contact us to make sure your system is
ready for the Hurricane season. In addition, a basic emergency kit will help you keep your family safe and healthy in the event of a disaster. The Center for Disease Control (CDC) recommends having at least two-weeks' worth of the following supplies:
Water, one gallon per person for both drinking and sanitation
Food, non-perishables and a manual can opener for food
Battery-powered or hand crank radio, and a NOAA weather radio with tone alert and extra batteries for both
Flashlight and extra batteries
First Aid kit
Whistle to signal for help
Garbage bags, moist towelettes and plastic ties for personal sanitation
Wrench and pliers to turn off utilities
Cell phone and portable charger
Other steps to get storm ready include:
Download an app to your smartphone such as the Red Cross' Hurricane App
Get gas before the storm – for both your vehicle and portable generator
Have an evacuation plan/route, identifying the nearest shelter.
Make plans for your pets (supplies, medication)
Board up windows and doors
Secure outside items that could blow away in the storm
Keep an ax in the attic to escape storm surge and flooding
Have backup power available
For more information, download the Generac Hurricane Preparedness Guide. Contact us to make sure that your generator is prepared for the coming storm season.
---
Power Outages: It's Not a Matter of If, But A Matter of When
Ask yourself, when was the last time you experienced a power outage? You may be surprised by the numbers!
In 2018, Generac's outage tracking system recorded 633,692,764 power outage hours across the United States. We rarely think about power availability until it is unavailable. Most businesses require electricity to operate, and not having it can be extremely detrimental. According to a study by the National Oceanic and Atmospheric Administration (NOAA), weather and climate-related disasters cost the U.S. economy $80 billion in 2018 and have cost the nation about $100 billion per year over the last five years.
See the number of power outages currently occurring in the United States at Generac's Power Outage Central.
Ask yourself:
What would an outage cost your business per hour?
How could an outage cost you a customer?
What are the direct consequences associated with damaged equipment?
What are the main causes of power outages?
How do you determine what back-up power system is best for your business?
Are you ready for the next power outage? Download the Generac Power Outage fact sheet to learn more, and contact us for help in getting prepared!
---
Did You Miss Generac's Webinar: An Advanced Look at Generator Sizing?
This 30 minute webinar dives deeper into accurate load modeling and monitoring. Explore the alternator's and engine's response to different types of loads while investigating different techniques to optimize the generator's performance.
Topics include:
Typical methods used to solve UPS problems
Applying generators to cable and hydraulic elevators
Design tips to manage non-linear load harmonics
HVAC equipment (initial estimates vs. final sizing)
Sizing the mechanical system for pressure drops (gas piping & exhaust piping)
If you missed the webinar, you can view it HERE.