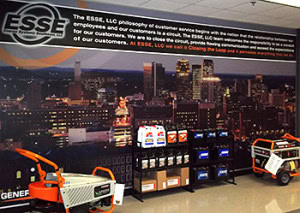 Energy Systems Southeast, LLC is a proven name in the power systems industry offering comprehensive emergency power system services to residential and industrial customers throughout the southeast.
Energy Systems Southeast is one of the largest Generac Generator Distributions in North America. We offer the following list of products:
Knowledgeable generator sales and specifications
Turnkey installation services
Generator maintenance service plans
Service technicians 24/7/365
Complete inventory of replacement parts
Rental generators for most commercial applications
Over the years as our reputation has grown, our service area has expanded and now includes Alabama, Georgia, NW Florida, Mississippi and Tennessee.
Our growth has largely been possible through a single-minded commitment and focus on customer service and expertise. We provide on-going personnel training and require our technicians to meet certification requirements in a number of engineering and technical disciplines.
As one of the largest Generac Generator Distributors in North America we offer a complete range of Generac gensets including:
Air Cooled
QT / QTA (Liquid Cooled)
SG / SD Configured Units
6kW to 2 MW units in single unit configuration
We look forward to working with you to provide the highest quality emergency power products, exceed your service expectations and answer any questions you have about generators and standby power.