Connecting Commerce with Stability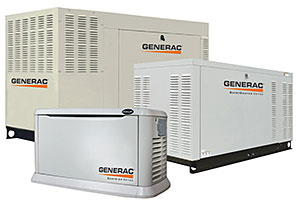 Commerce is about keeping the doors open, customers happy and the lights on. 
We live in a 24/7 world. Energy Systems Southeast offers a host of power generation solutions designed to keep our customers functioning around the clock, day after day, year after year. Losing power for even a few hours can mean thousands of dollars in lost revenue to your business. Security systems go down, refrigerated goods spoil, customers are turned away.
Generac revolutionized the commercial generator market with the first standby generators powerful enough to back your entire business without the cost of expensive configured systems. Keep your business open with a competitive advantage. View what is available in our current inventory.
These units are also ideal for large residential needs.
With more than ten models to choose from and outputs ranging from 20 to 150kW, the Generac QT series of generators are a super reliable, cost effective solution to back-up power needs for commercial establishments and small businesses. These gensets are compact, quiet and ideal for a wide range of establishments including supermarkets, banks, fitness centers, restaurants, shopping centers and hotels. Learn more about Generac's Quietsource Series »
Low speed, automotive style liquid-cooled engine runs at only 1800 rpm during a power outage for a substantially quieter generator, greater fuel efficiency, and longer engine and alternator life.
Super quiet, super efficient, patented Quiet-Test™ mode for a weekly test mode that's quieter than other brands, consumes less fuel and helps make your Generac generator the most environmentally friendly on the market.
Standard aluminum, all-weather enclosure provides the ultimate protection from the elements. Aluminum's natural corrosion resistance prolongs the life of your generator and is recommended for salt-air, coastal locations.
Generac's newest residential product brings diesel power to the residential homeowner. With readily available sizes and configurations there is sure to be a solution that fits your needs.
Offers the Evolution Controler – intuitive LCD Display
Quietest – this self-test mode consumes less fuel and runs at a lower RPM
Code compliant UL/CUL 2200 listed generator with a wide range of code-driven accessories
Capable of providing full power protection for large homes and commercial applications from gas stations and convenience stores to restaurants, schools, assisted living centers, and municipal buildings. Learn more about Generac's Commercial Series »