This Month's Articles:
---
2013 Capped by Acquisition of Pro Power Solutions of Georgia
Last May Energy Systems Southeast was pleased to announce the acquisition of Pro Power Solutions, LLC, a Generac Holding in Atlanta, Georgia. As a leading Generac Industrial Power dealer, the acquisition was the perfect opportunity to expand our offerings to include customers in Georgia.
Throughout our history of business ESSE has excelled and received numerous awards and achievements as a Generac Industrial Power dealer. We were awarded the "Eagle Award", the highest achievement a dealer can attain from Generac Industrial Power, in 2009, 2010 and 2012. This award represents an increase in overall sales and market share, increase in service and parts, business commitment and dedication to the support of Generac programs. Additionally, ESSE was recognized as Generac Industrial Power Service Dealer of the year in 2011. Pro Power has served the Georgia standby power market for over twelve years with offices in Atlanta and Savannah.
"ESSE remains very optimistic about the opportunity to serve and represent Generac Industrial Power in Georgia. Pro Power Solutions has served the Georgia market well over the past decade and we look forward to growing and building relationships while offering our superior products and service to customers throughout the state," says Alan Friday, ESSE's Vice President and General Manager.
Since May of 2013 we have worked hard to integrate the PPS team into our company. We have relocated the Norcross, Georgia office and met with customers across Georgia to let them know we are committed to serving them with the enhanced technical skills and responsive service ESSE brings to the table. ESSE has also incorporated new staff, resources and inventory to better serve the Georgia market.
---
With New Acquisition, Generac Strategizes for the Future
With the acquisition of Baldor Generators, Generac now offers a complete line of portable, mobile, standby and prime power generators ranging from 3kW to 2.5MW throughout North America. For almost 50 years, Baldor Generators and its predecessors have served the power generation market with a comprehensive, reliable product offering and flexible operating environment. "Acquiring Baldor Generators is a great strategic fit for Generac's business, providing us immediate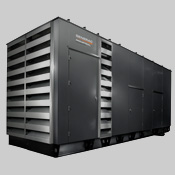 access to a larger industrial product line to better support the North American and global power generation markets," said Aaron Jagdfeld, President and Chief Executive Officer of Generac. "By offering additional power solutions up to 2.5MW, this acquisition improves our competitive position in the marketplace by increasing the addressable market that our distribution partners can serve."
We at ESSE are excited about these new offerings and about the partnership we have with Generac, one of the most comprehensive generator manufacturers in the industry!
---
Generac Introduces New 400kW Spark-Ignited Generator Set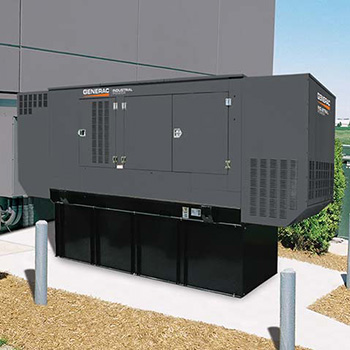 Generac's spark-ignited standby generators are specially engineered and designed to make the most of natural gas. Advances in Generac's generator design make these gaseous engines run better and more reliably than competitive products, all while offering the maintenance benefits of natural gas, a smart fuel choice with far greater environmental appeal due to its overall reduced carbon footprint.
The Generac difference is clarity! While other companies focus on dozens of different products, Generac focuses on only one thing, making the most dependable generators on the market. That clarity allows Generac to provide the largest breadth of spark-ignited standby generators with increased durability, reliability and performance in the industry!
The new 400kW unit will be available in stand-alone and MPS configurations, providing more power and application flexibility. These units offer state-of-the art technical innovations including:
Advanced Design from the Ground Up
Integrated Superior Controls
Highly Durable and Reliable Materials
Optimized for Performance
ESSE is currently taking orders, with units available to ship starting this month. If you're interested in learning more about the features, benefits, and specifications of the new 400kW units please contact your local sales manager.
---
ESSE Only East Coast Dealer to Offer Industrial Training
The 2014 training schedule has been adjusted to include new Industrial training classes. We are proud that Generac has selected ESSE as one of only two dealers in the country to offer the Industrial training classes. The 5-day Industrial Training course allows a technician that is assigned to an appropriate service dealer to perform warranty repairs on gaseous or diesel stand-alone generators. Learn more information about the prerequisites required.
Some of our other upcoming training classes include:
Air Cooled: February 24-25 and March 6-7
Protector Series: February 27-28 and March 27-28
Commercial: March 17-21
Commercial I: March 12-14
And a new Industrial Update class: March 24-26.
Please check our website for the latest updates to our 2014 training schedule. Register online for training classes here.