Use Our New Online Service Request Forms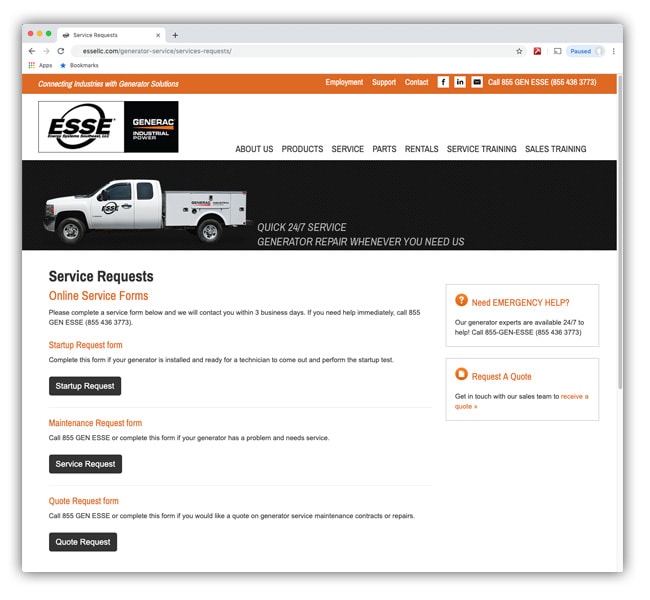 We've made it easy to submit your service requests online! Our new
Service Request page
is a convenient and easy place for you to submit any service request you have. From parts to start-ups or estimates, simply fill out the appropriate form. We've provided three forms for your use:
START-UP REQUEST

Complete this form if your generator is installed and ready for its start-up test. View

MAINTENANCE REQUEST

Complete this form if your generator needs service. View

QUOTE REQUEST

Complete this form for quotes on service contracts or repairs. View
All requests will be handled in the order that they are received, and you will get a response back from one of our service team members within three business days.  
If you have a generator issue that requires immediate resolution, we are available 24/7/365 by phone at 855-GEN-ESSE (855 436 3773).
---
Featured Project: Assisted Living and Memory Care Facility
Application:
Healthcare
Location:
Cartersville, GA
Model:
2x MD400 Diesel
System Configuration:
208V, 800 kW
This project was for an assisted living and memory care facility located on a 5.3 acres. The 56,800 square foot, 2-story building will have 60 bedrooms with 75 bed facilities, as well as a gathering room, shop, wine bar, library, large dining room, salon and heath room/gym.
We provided a 2x400kW Modular Power System (MPS) strategy to backup the 3000A service in lieu of the originally requested single engine 800kW. Advantages to MPS include redundancy, reduced space requirements and flexibility.
Learn more about MPS
.
---
Generac Webinar: Know Your Codes – NEC
September 26th, 12:30 PM EST
While initial versions of the National Electrical Code (NEC) were not written with generators in mind, generators have been added in various sections of the code over the years. This webinar will examine these ever-changing sections and give an overview of the NEC requirements of generators inclusive of the most recent updates. Attendees can expect to become familiar with the NEC relative to the installation and operation of standby generators specifically including:
Specific generator requirements including sizing, start-up times, load transients, alarms, instrumentation and signage
The relationship between stated NEC codes and the Authority Having Jurisdiction
Specific requirements for disconnects and breakers
Accessibility requirements
Requirements for overcurrent coordination
If you missed Generac's previous webinar
Understanding Generator Reliability,
an advanced look at key factors with a discussion on how you can ensure the highest degree of reliability in a system design
,
you can view it
here
.