October 2016 Articles:
---
More Products. More Reliability.
Power generation is all Generac does. With their cutting-edge product development Generac's singularity of focus and commitment to providing reliable power solutions is unmatched in the industry. It's a commitment that's easy to see in products like the Generac MPS (Gemini) and factory-equipped Bi-Fuel generators and in industry-exclusive tools like Power Design Pro (for design and sizing) and their continuing education program for engineers, the Professional Development Seminar Series. Plus, with their new line of single engine generators (6 kW – 2 MW),  now they are one of the largest suppliers of standby and prime power solutions in the industry.
Fuel Types & Products (Read this month's Fuel Options article to learn more):
•    Diesel 15kW – 2MW
•    Gaseous 22kW – 400kW
•    Bi-Fuel 400kW-600kW
•    Mobile 6kW – 2MW
Service and Support
Just as important as Generac's product quality and reliability is Energy Systems' commitment to customer support, both before and after the generator purchase. As an Industrial Dealer for Generac we sell and service all Generac generators, controllers and switching systems. We have factory-certified technicians with trusted expertise in system design, sizing, installation, commissioning, diagnostics and repairs. We offer 24/7 emergency response, warranty service and scheduled maintenance programs.
Support for the Engineering Community
Engineers, contractors, and end users depend on Generac for comprehensive power generation education and application support. They offer a wide range of extensive resources to help specify the best equipment for the job with the features, size and options that meet our customer's needs. Thousands of engineers and electrical contractors throughout North America have gone through their Professional Development Seminar Series (PDSS). This training outreach program has been developed in conjunction with Milwaukee School of Engineering, one of the top engineering universities in America and provides PDH's and CEU's to participating engineers. To get more information on the PDSS series contact us.
The Most Powerful Generator Sizing and Design
Generac has incorporated 50 years of power generation experience into Power Design Pro™ with the goal
of making sizing and specifying generators as easy as possible. It incorporates state-of-the-art algorithms
that accurately model a load's true characteristics, combined with full harmonic and transient analysis to
ensure complete generator to load compatibility. This ability to accurately size and design generator
solutions is unmatched by any other software in the industry.
---
Standby Generator

Fuel Options
Clean-burning Gaseous Fuel
Enjoy Long Running Times Without Refueling
In the past, gaseous fuels had been avoided in industrial backup power applications based upon cost effectiveness, power density, and perceptions of durability and fuel reliability. That is no longer the case.
Cost-effective Engines: Automotive-style spark-ignited engines are more readily available in high volumes, making them more cost-effective components to source than similarly sized diesel engines.
Long Running Times: A key benefit to natural gas fuel is long running time. Because natural gas is supplied by a utility, refueling is not an issue.
Environmentally Friendly: Not only do natural gas-fueled engines emit fewer nitrogen oxides and particulate matter than comparable diesel-fueled engines, but they avoid the fuel containment, spillage, and environmental concerns associated with storing diesel fuel.
The Power of Diesel Fuel
The Traditional Choice for Standby Power
Diesel-fueled generators are an efficient choice for high kW applications, as well as for facilities where code requirements call for on-site fuel storage, like hospitals and 911 call centers. They can also provide backup power in remote areas that do not have access to a natural gas infrastructure. To provide the best possible diesel-fueled standby power solutions, Generac identifies and pre-qualifies diesel engines proven in real-world applications under adverse conditions. Then we work hand-in-hand with best-in-class diesel engine manufacturers to optimize designs specifically to meet Generac requirements.
The Best of Both Worlds: Bi-Fuel™ Generators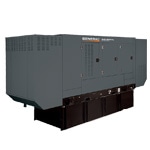 The Only True Bi-Fuel Solution—EPA Compliant from the Factory
Generac Bi-Fuel generators start on diesel fuel and add natural gas as load is applied, until the unit runs primarily on natural gas. It's not a new concept, but Generac's Bi-Fuel generators aren't after-market conversions in the field, unlike practically every other bi-fuel solution on the market. They are fully integrated solutions. That means every fuel train component, every sensor, every actuator on the engine is specifically designed, engineered, and factory tested to work together. Optimally. Efficiently. And backed by a full Generac factory warranty and product support.
This gives Generac Bi-Fuel generators the added benefit of being EPA compliant from the factory—the only bi-fuel systems on the market that can make such a claim.
---
Staying Ahead of the Storm: Preparing Your Home Generator for Unexpected Outages
As we are in the midst of storm season, and winter weather is just around the corner, ensuring your home is prepared for unexpected outages is of the utmost importance. If you own a portable or automatic standby generator, or are considering purchasing one, we wish to remind you that enjoying the comfort of backup power requires preparing your unit for operation before the next outage occurs. Follow these steps to ensure the quality performance of your backup power products throughout the year:
Preparation Tips for Portable Generators
Maintenance
Always follow the maintenance recommendations provided in each product's owner's manual. Refer to your manual to verify the duration of your unit's break-in period and follow these tasks to ensure long-term operation thereafter:
Every Season or 100 Hours of Operation
Change oil and replace oil filter*
Clean spark arrestor
*Change once a month when operating under heavy load or in high temperatures
Every Season or 200 Hours of Operation
Replace spark plug
Service air cleaner
Monthly (electric start models only)
Charge battery for no longer than 48 hours continuously
If you do not intend on using your generator for more than 30 days, follow the long-term storage instructions provided in the owner's manual.
Operation
First and foremost, when a portable generator is needed in an emergency, be sure to take the unit outside and place it no closer than five feet from the nearest window, wall opening or structure. As portable generators produce carbon monoxide emissions, failure to keep the unit at a safe distance can cause severe health issues. For more information on safely using your generator outside, watch this helpful video from the Portable Generator Manufacturers' Association.
After safely placing a portable generator away from the home, homeowners should then add fuel and start the engine prior to running extension cords and connecting their desired loads. While many portable generators run on gasoline, certain models are designed to operate on liquid propane. Ensure your gasoline is fresh and your LP tanks are properly filled before attempting product startup. For homeowners who would prefer to limit time spent without power when outages occur, utilizing a manual transfer switch can safely provide power from a portable generator to select loads in your home's electrical panel to backup pre-determined loads. To ensure that you are able to acquire the ideal products for your home's configuration and local code requirements, contact us.
Preparation Tips for Automatic Standby Generators
Maintenance
Similar to portable generators, automatic standby generators periodically require maintenance to help ensure long-term performance and extend the life of the generator. When the unit is running continuously, check the enclosure's louvers for dirt and debris. Any shrubs or tall grasses that have grown within three (3) feet of the intake and discharge louvers on the sides of the enclosure should be removed, and any debris (dirt, grass clippings, etc.) that has accumulated inside the enclosure should be cleared out. Lines and connection points should also be checked for fuel or oil leaks before each use. Report any leaks immediately.
Automatic standby generator owners should also check the engine's oil level after 24 hours of continuous operation. Refer to the product's owner's manual to ensure you are utilizing the appropriate oil type for your local climate. Also, it is important to note that while most automatic standby generators feature a low oil pressure shutdown system that prevents catastrophic engine damage due to low oil, users should not rely on this defense mechanism as an indicator of when oil maintenance is required.
As for periodic maintenance requirements, following these steps will help to ensure a long product life and optimal operation when outages occur:
Yearly/Every 200 Hours of Operation
Check battery condition, electrolyte level and state of charge
Change oil and replace oil filter
Every four (4) years/400 Hours of Operation
Replace air filter
Re-gap spark plugs**
Inspect and adjust valve clearance
**Replace spark plugs if pitted or fouled
If performing any of these tasks seems intimidating, rest assured—Energy Systems Southeast is capable of providing product maintenance on an annual or bi-annual basis at affordable rates.
Operation
When properly prepared for operation, Generac's automatic standby generators require minimal owner interaction when an outage occurs. The generator continuously monitors local utility service and starts up automatically when an outage is detected. No pull-start requirements. No connecting extension cords. No time getting wet in the rain or snow. Just relax and wait for the generator to startup, which will restore power to your home until local utility service returns.
For questions about product maintenance, contact us.
---
Why You Need Backup Power

Lost power means lost revenues. And it could mean irreparable damage to your brand's reputation. No matter your business need, Generac's business is protecting yours – from the damage of power outages. You can rely upon Generac standby generators to protect your bottom line and give you an edge over the competition.
No power can cost a:
grocery store $60,000 per day
gas station $25,000 per day
restaurant $20,000 per day
Demand Is Greater Than Supply
Our nation's infrastructure has suffered from a chronic lack of investment for more than 50 years. And no national strategy exists to improve infrastructure reliability. Such a plan could take decades to develop and implement.
Outages Are a Daily Occurance
According to a 2011 study by MIT, every utility customer on the U.S. power grid can expect to experience between 1.5 and 2 power interruptions per year, with interruptions lasting between 2 and 8 hours.
A Huge Bill for Modifying the Grid
Hundreds of billions of dollars will be required to modernize our nation's power grid. And there are no plans in place for finding and allocating those funds.
Schedule a FREE, Custom Power Risk Assessment
Know Your Power Risk With an On-Site Assessment
Energy Systems Southeast will come to your business and perform a custom power risk assessment for your business – totally FREE, no obligation. We will walk you through your options and find the standby power system that's right for you.