Connecting Home Owners with Peace of Mind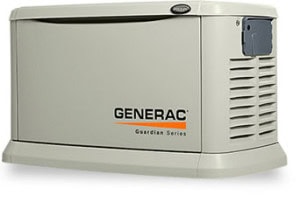 It is an unpredictable world out there. Every year; we put more stress on the nation's power grid. And every year we see power outages with complex consequences. Homeowners are turning to standby generator sets as a worry-free solution to unpredictable utilities.
ESSE offers a full line of Generac residential generator systems ranging from 7kW up to 22kW in output. View the home standby units we have available in our inventory.  We recommend that, in selecting a standby generator, the homeowner determines whether to back-up the entire house load or specific circuits and select a genset with appropriate kilowatt output. Permanently installed outside your home (similarly to a central air unit) a Generac residential unit is connected directly to the home's utility. In the event of disruption of electrical service, a Generac residential generator is designed to start up within seconds, and a transfer switch automatically provides power to the electrical system of the home.
Automatic, hands-free backup powersupply for home or business
Kicks in within ten seconds of determining power loss. Your life won't miss a beat.
Powered by Generac's OHVI® engine – designed specifically for generators. Lasts three to four times longer than many competitive engines.
Easiest installation and best value on the market – many models pre-packaged with a pre-wired transfer switch. All models include mounting pad.
TruePower™ Technology provides clean, smooth operation of sensitive electronics and appliances.
Quiet-Test™ mode for a weekly self test that's quieter than other brands.
The most environmentally friendly generator on the market – consumes less fuel and releases fewer emissions.

Immediate backup power supply with a continuous fuel source of either LP or natural gas. Starts automatically whether you are home or away, eliminating extension cords and refueling.
Prepackaged with a transfer switch – a complete automatic system at the same price as a portable generator.
Easy installation – sides are removable for easy accessibility. Lighter than comparable units, the compact footprint fits unobtrusively into landscaping
With the introduction of the EcoGen 6 kW, Generac is able to offer the only automatic standby generator engineered specifically for off-grid use. It eliminates virtually all of the issues previously associated with alternative energy backup power options, including high fuel consumption, noise, and short product life. Instead, the EcoGen 6 kW is the answer for consumers needing affordable, reliable, low emmission, off-grid standby power.
Built specifically for this application, it is the first automatic standby generator to be warranted for off-grid use when used in an alternative energy system.
Engineered to easily integrate into the existing inverter and battery storage system.
Runs on environmentally friendly, energy-efficient propane gas that is already stored and available at many off-grid locations.
Features Generac's own V-Twin OHVI® industrial engine, the only engine developed specifically for generator use. The low speed makes it the quietest in the industry, with noise and vibration levels drastically less than comparable solutions.
Simplified maintenance with unprecedented 500 hour maintenance intervals saves time and money.

Read how a limited budget didn't keep one homeowner from finding a reliable home generator.
Residential Transfer Switches
Although the generator creates the power, the transfer switch is really the core of your generator system. It is an electrical panel that allows you to safely connect a generator to your home's electrical circuits and is permanently installed near your main circuit breaker panel. It constantly monitors incoming utility power and determines when a true power outage is occurring, switching from utility power to emergency generator power and back again when utility power returns. Options include transfer switches that provide power to only essential circuits or every circuit for whole-house coverage, and some allow for prioritization of optional circuits or load shedding, such as heating and cooling.
Generac manufactures its own transfer switches to ensure they integrate seamlessly with its generators. They offer more options than any other manufacturer to ensure you can customize the exact system you need. Whether it's essential circuit coverage, load shedding or complete whole house coverage, there is a Generac transfer switch for your application. Contact us to find out more.